Got up early despite the overly comfortable bed inviting me to stay a while longer. Had to get downstairs for the buffet breakfast though so up and moving it was. The buffet was amazing. First opportunity for some western food in a while. I ended up with a bowl of rice krispies and cacao nibs (rice bubbles and coco pops) to start with, then proceeded to a plate of bacon and eggs with a slice of toast. Didn't even think how my body would react to suddenly getting the food it was more used to after a week of eating stuff it wasn't. Echo was struggling with the cutlery, they apparently didn't have chopsticks in the hotel at all.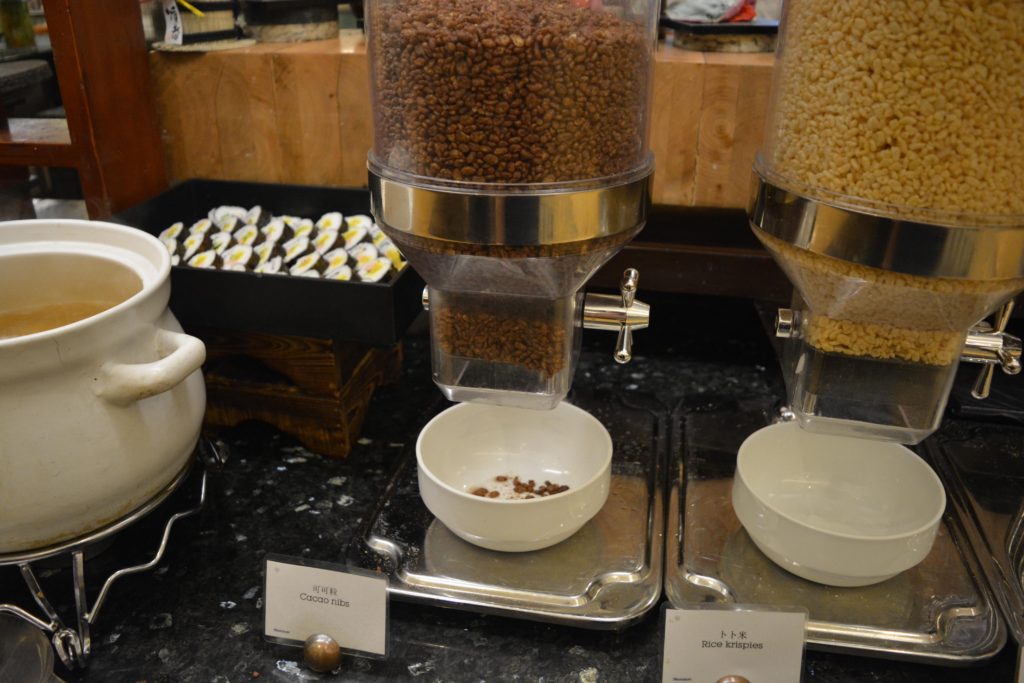 We left Echo to enjoy the rest of her breakfast and to have the day off from looking after us. We made our way to the subway and headed north to Xi'an's High Speed Rail terminal. The building itself was huge, looked a lot like an airport terminal rather than what we know as a train station. We checked in and had a bit of a wander, Gabriel and I stumbled on a large group of Chinese soldiers preparing to depart towards Beijing.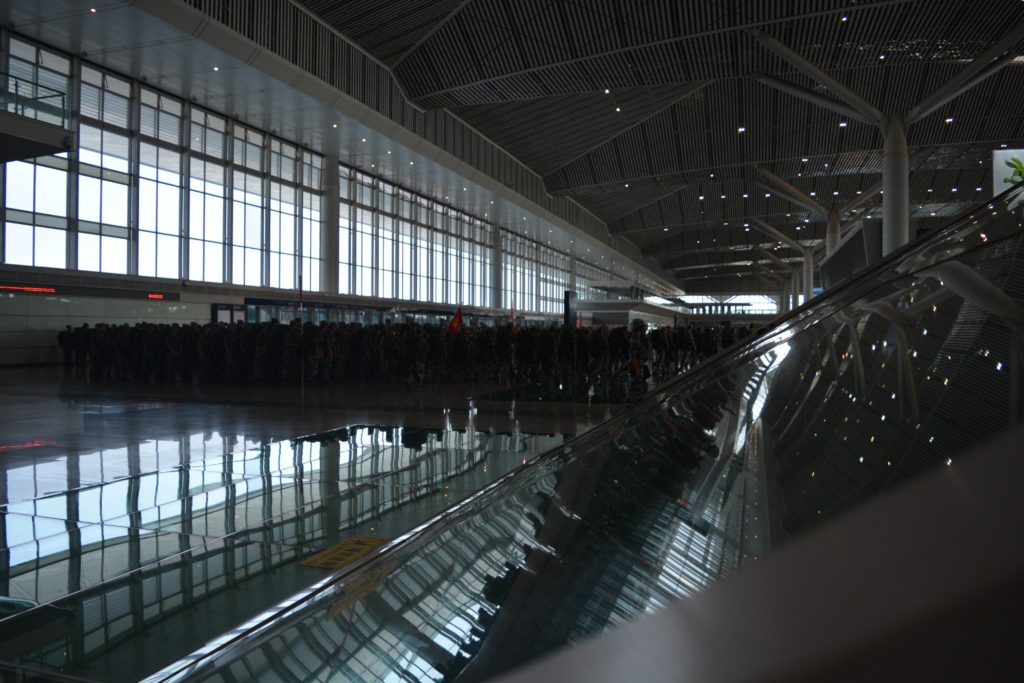 Catching the train was awesome. Such a smooth ride and even when up to speed (300km an hour!) there was no noticeable vibration or bumpiness to the ride. The acceleration curve was slow as well so you didn't get forced back into your seat as the train left the station. We got off the train two stops away (but even that was over 100km from Xi'an) at Huashan North.
From there we took a bus to the base of the mountains. Even the view from this spot was spectacular, but we had been told it was only going to get better, and the journey would be worth it.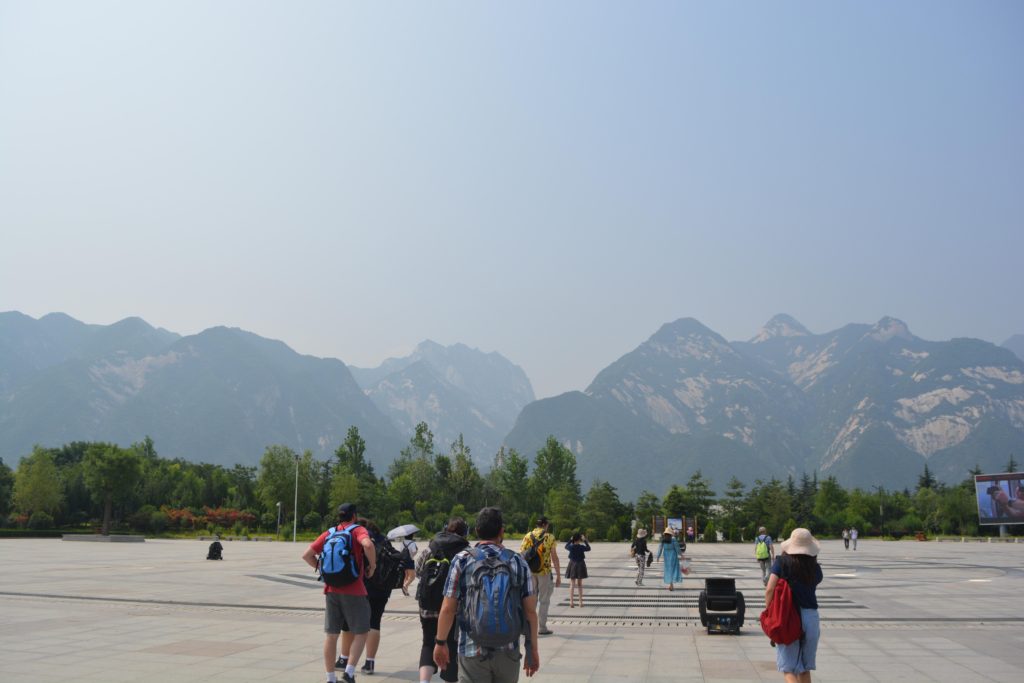 We had to take another bus from the base of the mountains to the base of the cable car. That was, as the song goes, a long and winding road. And a long tunnel, before finally making it to what we thought was the base of the cable car. From there we had to trek up stairs. A lot of stairs.
Just when we thought we were done… More stairs.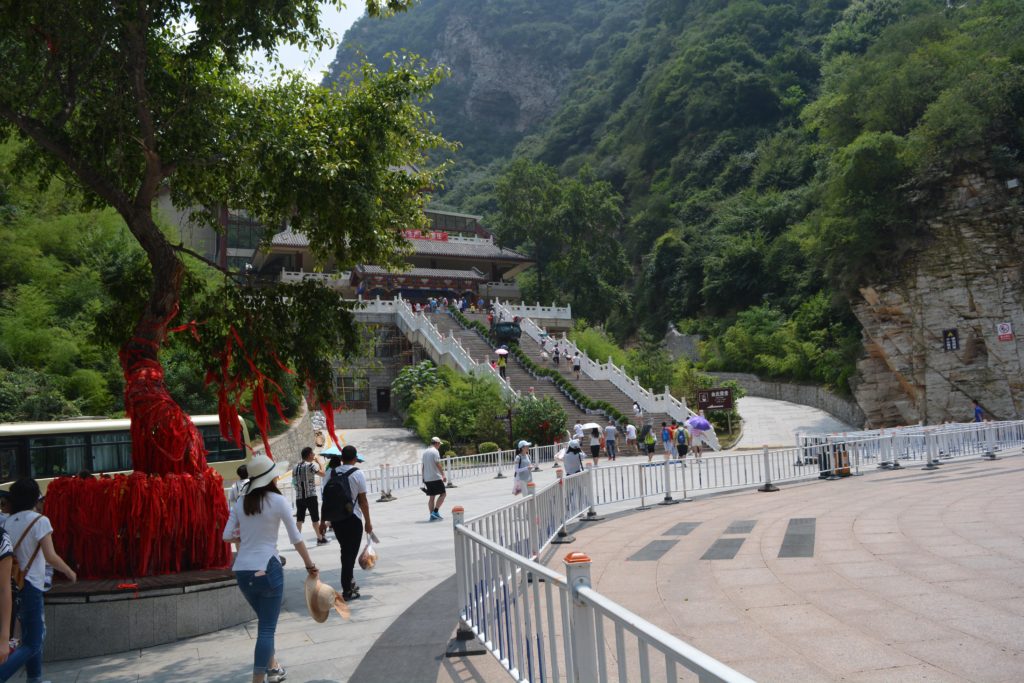 And when we got inside and thought were finally done. Yet more stairs.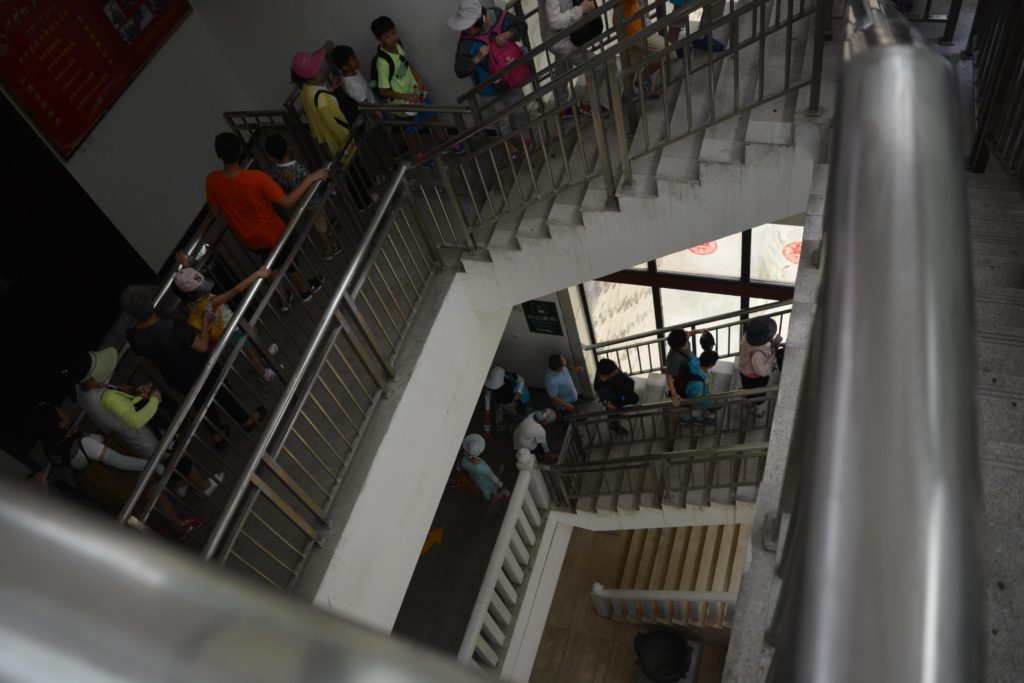 But it was definitely worth it. On the way up we had Ian and Greg in the gondola with Michael, Andreana and myself. Ian and Greg started talking about whether we'd survive the fall if the cable snapped. Thanks guys, needed that kind of talk while we were on the damn thing!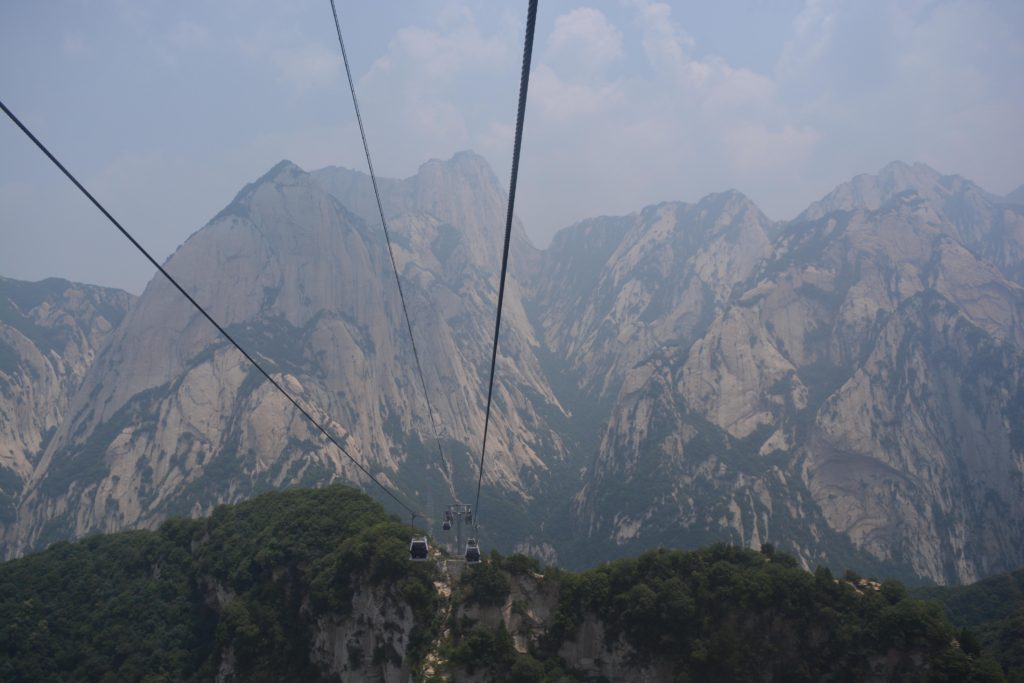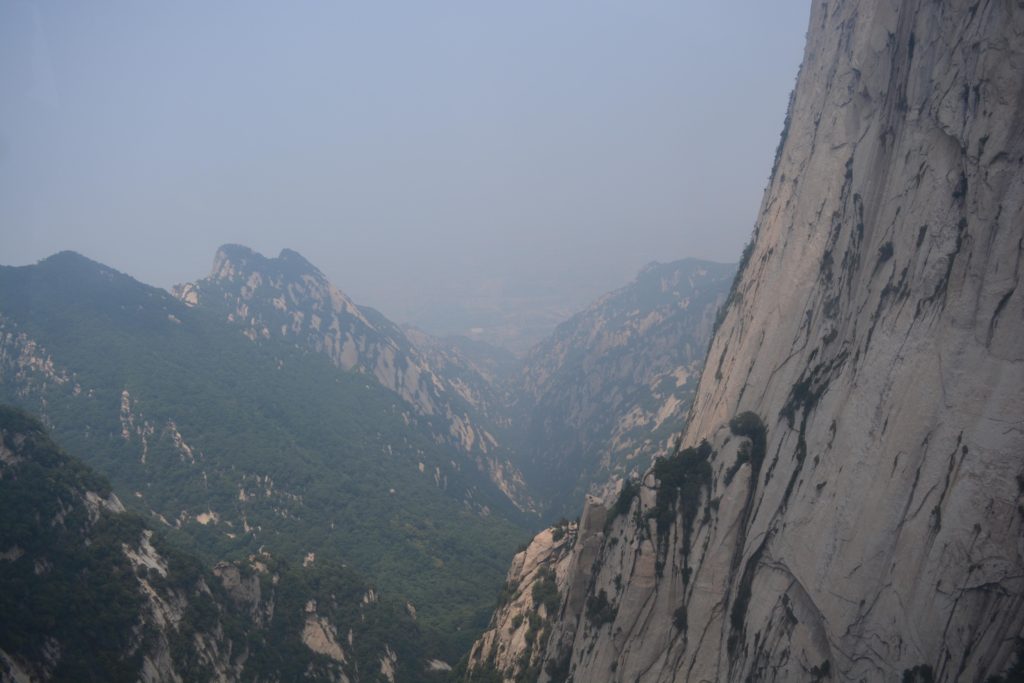 We didn't stay at the summit for long, our train tickets back to Xi'an dictated our timetable. I decided to stay at the exit to the cable car with a few others and we ended up playing UNO for a bit (with a few looks along the way). Gabriel, Matt and Luke got some great photos from the top.
Then we retraced our steps, down the winding road and back on the overcrowded bus before heading back to the train station. A train went past at full speed while we were waiting, that's fast. Really disappointed I opted to take photos of it over a video.
Took taxis back to the campus to save time dealing with the subway and the line transfers (and the queues for tickets). Ended up with Andreana, Michael, and Bing. It was a bit cramped with us and all our bags.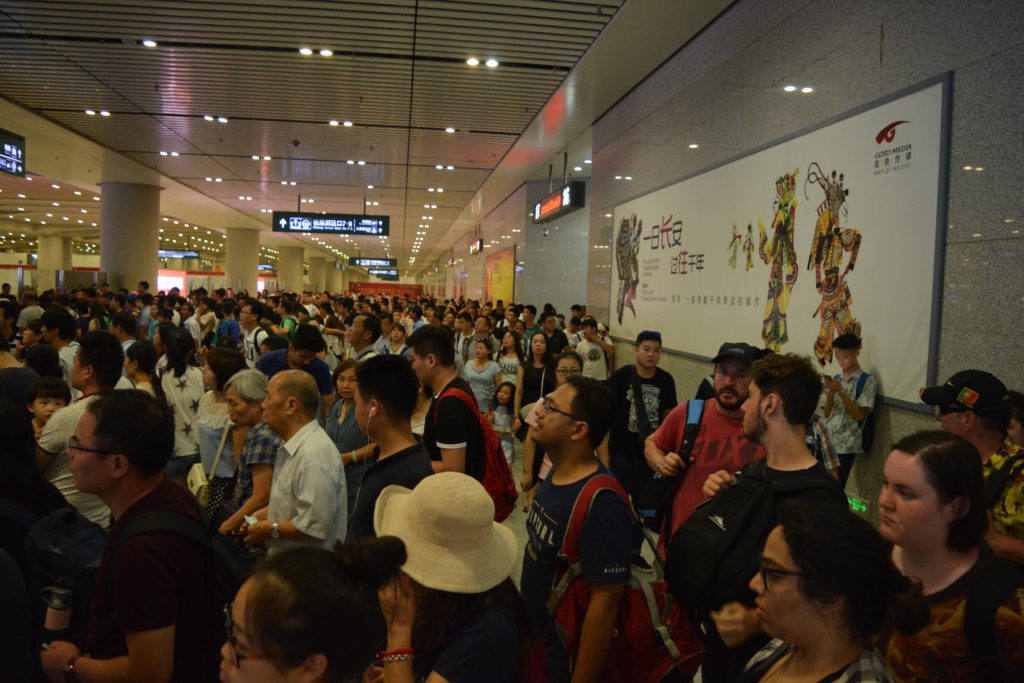 Just for something different, we had dinner back at the venue we had dinner the first night we were there, no banquet. This time I had noodles instead of rice.