Plymouth is a seaside horbour town that has a long and rich maritime and war history.
The just over one hour drive down to the Plymouth ends with us seeing the ruins of the old church that was bombed during the blitz in World War II. It has become a bit of a recurring theme that remains of a church were either the result of bombing during the war or destroyed in a great fire.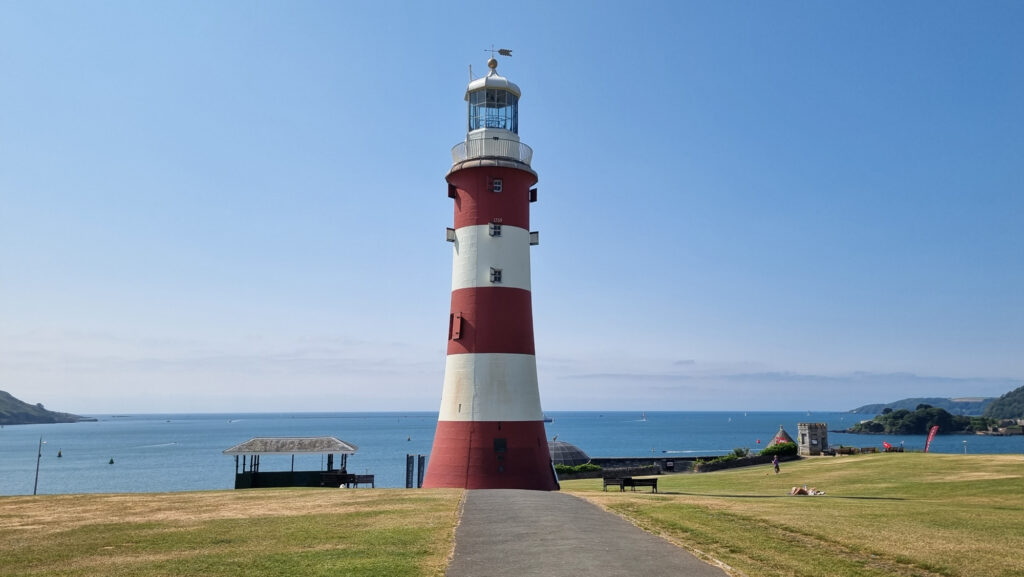 We walked up from the parking area to the top of the hill near Smeaton's Tower lighthouse. Which, interestingly, is not the original size for the lighthouse. It was built elsewhere but as part of the process of replacing it it was relocated to its current location but only around two thirds of the lighthouse was rebuilt. There is also a giant war memorial commemorating those who lost their lives during service in World War I and World War II.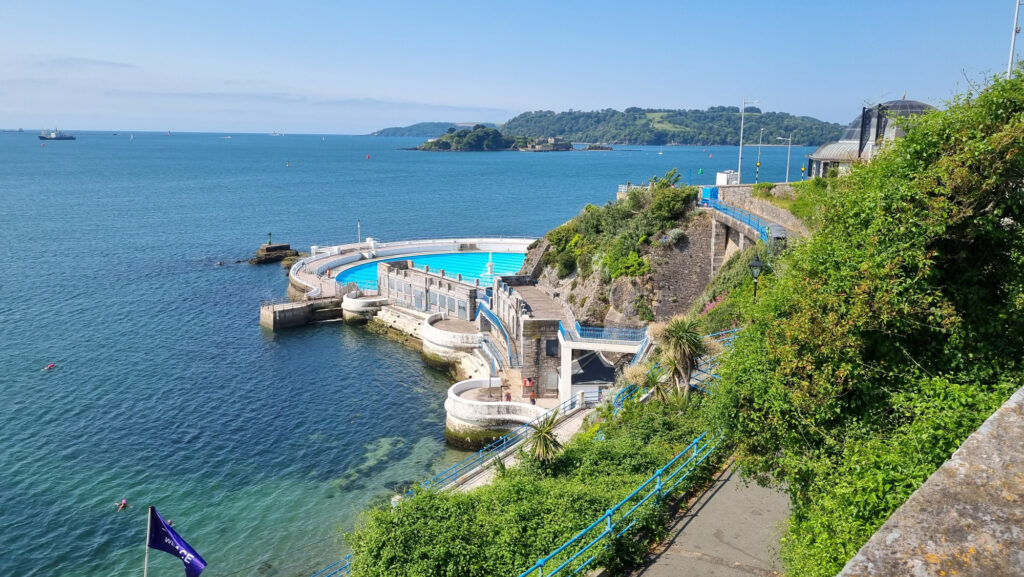 We made our way down to the waterfront to catch the tour ferry. It is an hour long tour around the harbour that covers a good chunk of history of the town. We reached the dock as one was preparing to depart, we skipped that one as the ferry looked quite full and decided to grab a bite to eat and a drink. We were lucky we purchased our boat tickets in advance as it gave us 10% off in the restaurant. I just had toast and a hot chocolate to tide me over until lunch.
It turned out to be a good decision not to rush on the almost full boat as the following tour we ended up catching was only around half as full as the previous boat. I ended up recording the entire tour using the Osmo so hopefully the wind doesn't overcut the commentary but I'm not confident we'll hear much of that.
We heard a lot about the French, as many would be aware there is a lot of conflict history between England and France. Drakes Island used to be a prison island for French prisoners of war (PoW's) and is now a school adventure island. Royal William Yard contained a building that housed French PoW's where French Commanders were forced to execute unruly or uncooperative French prisoners. So there is quite a bit of history there.
There was also a few submarines and British Navy tanker in port, many of the submarines are slated to be scrapped and salvaged over the next few years with replacements coming online in the same period. But there was a couple outside the naval walls for us to see, including a small Dutch submarine that was kind of like a rapid attack boat. Get in, fire a few shots, get out, and do it very fast. There was also a medium sized submarine that provided capability to launch divers while the submarine was submerged. Cool feature, not sure why you would need it all the time but it's there.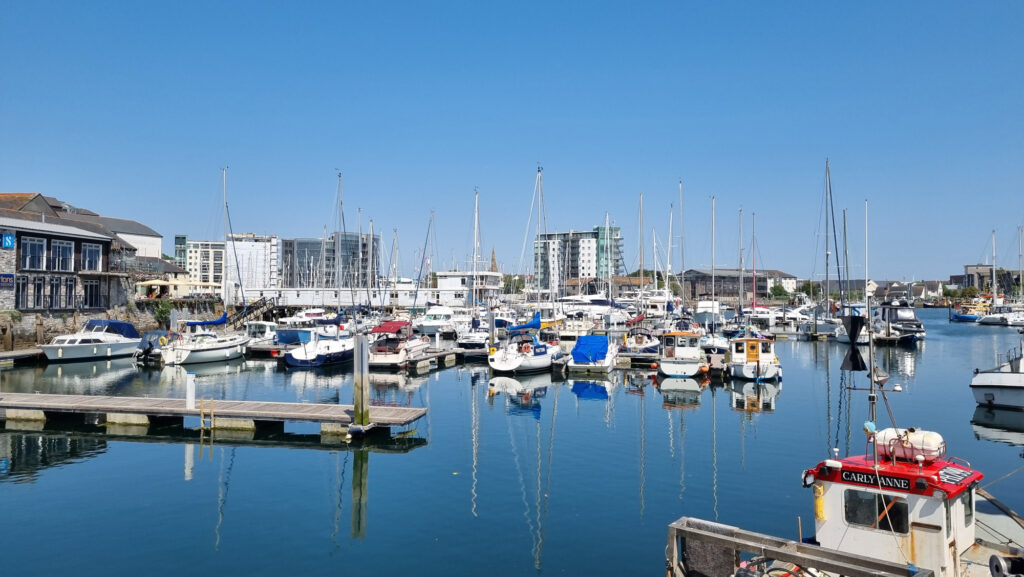 There was also some commercial and private things to see, such as the cross-river ferry carrying cars between Devon and Cornwall. As well as the marina where Princess launch their private yachts from. Princess is a company that has existed for many years and are well known for their quality yacht building, bringing a lot of industry and continued investment to the Plymouth area.
After the tour finished we made our way around to the Royal William Yard to have a closer look as the tour only briefly showed things from the water. We were able to walk around many of the old storage warehouses which were now restaurants, cafes, or brew houses. Walked through the wall portal to get an idea just how thick the old wall is, and then made our way around to walk on top of the wall.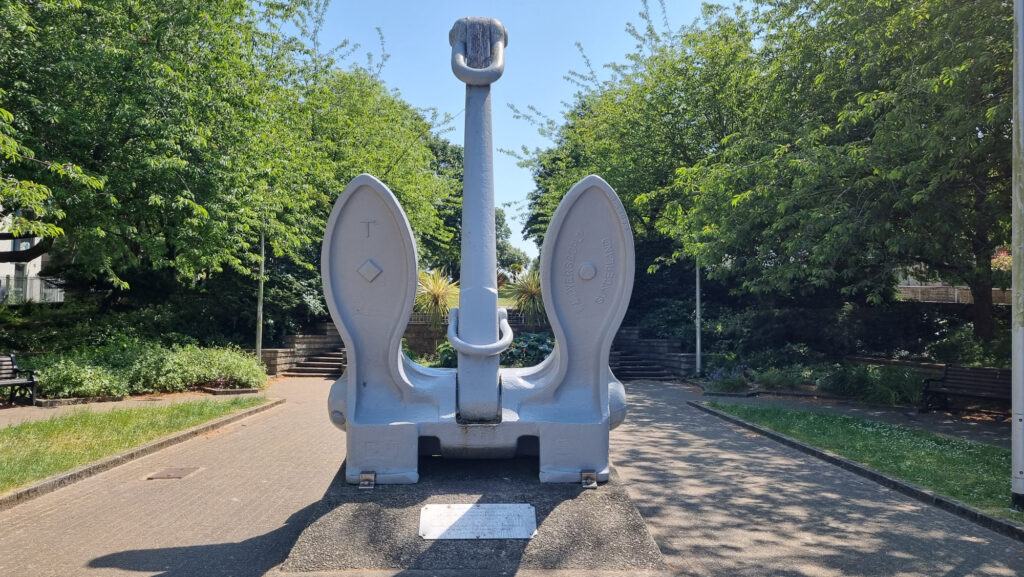 It was then time to tackle the peak traffic to make our way back. It took us a little bit longer coming back but not a great deal more.
Cheers!
P.S I will get to uploading some photos from these days I've missed them, it's just a pain in the ass getting the photos off my phone at the moment as that's what I've mostly been using while I've been here. When I have moment in the hotel in Heathrow or on the way back in Singapore I'll get around to it.