Here's a lesson in what not to do: Don't purchase tickets online and then lose your only way to access them by… not being online.
It's a bit of a long one but I promise I'll come back to that. Today was the day to depart Zurich and head south towards the Alps. I had booked a lot of my tickets in advance but stupidly forgot the one to get me from Zurich to Chur, figuring I had no idea at that point what I was going to be doing I purchased a day pass before leaving and thought nothing more of it at the time.
It turns out I probably could have spent a bit more of the morning in Zurich as I thought it was a 10am checkout but it turns out it was a midday checkout. But I'd booked my all day train ticket and planned which train I was catching so I opted against it and made my way to the station.
The train ride was smooth. The Intercity Express (ICE) services operate on the Stadler KISS platform, a double-decker train developed here in Switzerland. Apparently it's an acronym that translates to "Comfortable, Innovative, Sprint-capable, Suburban". Quite interesting that they have the curved windows on the top deck to get more of a panoramic view. I guess it makes sense they make their own trains given their demands for precision.
The lakes continued on for around half the journey, but eventually gave way to the mountains and I got my first glimpse of the snow-capped peaks in the distance.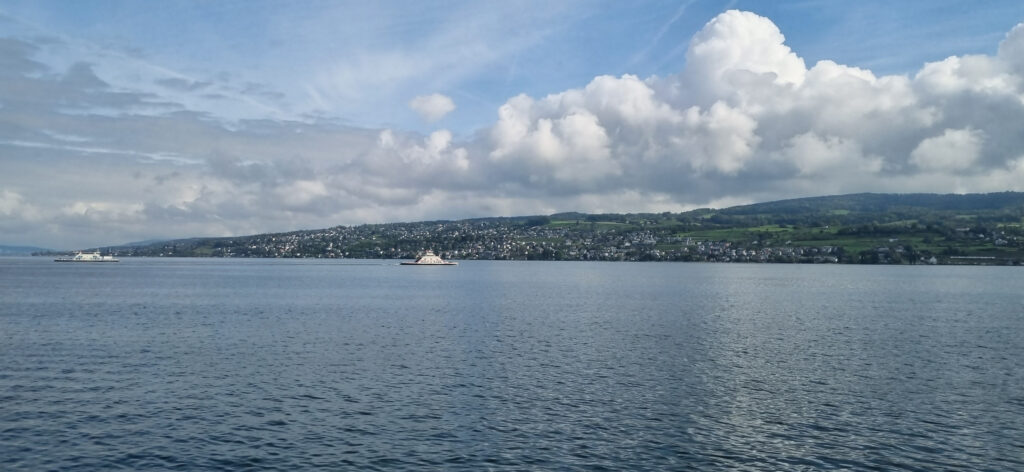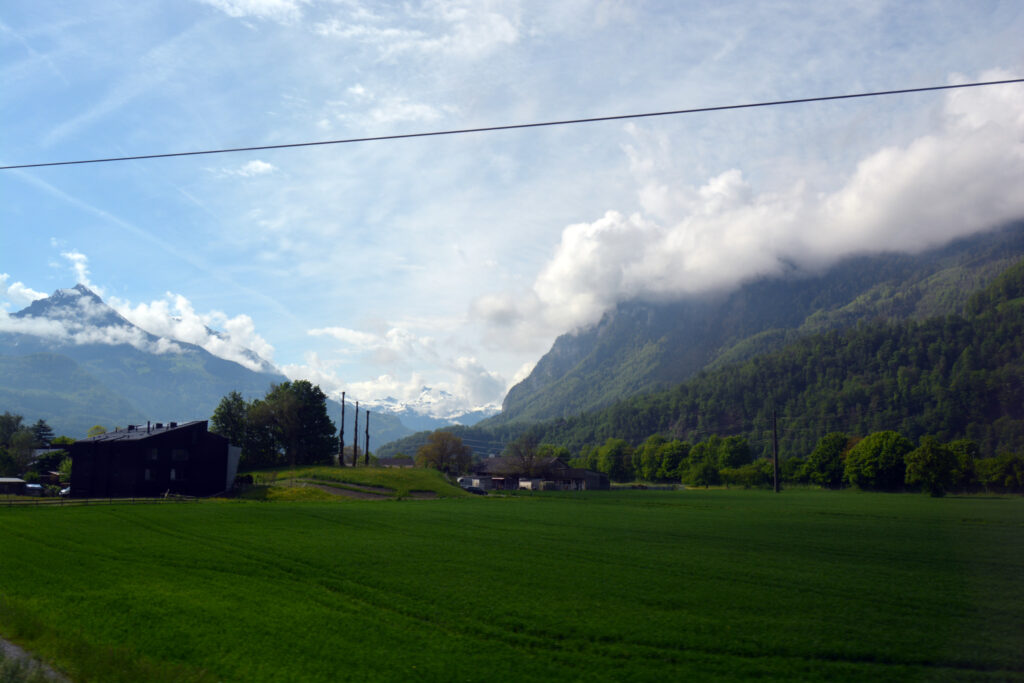 No doubt you're wondering where the story of the opening paragraph comes in? Keep reading we're almost there.
The train arrived in Chur on time. As it turns out the name of the town is actually pronounced Cur, or Cor, depending on who you're speaking to. But it's like, incur, without the "in", or curve without the "ve" if that makes sense. To me it makes sense because it's not pronounced "Zoo-rich" as the h is silent it becomes "Zoo-Rick". So it makes sense to me.
Anyway the first thing I did was have a shower because the walk from Chur West station to the hotel with an 18kg case in a late spring Switzerland sun was not fun. Apparently the average humidity level at this time of year is 71% and I could believe that. Then I headed back into the centre of town, but instead of being sensible and taking the train… I walked.
And walked.
In the end today I've walked a mammoth 24,400 steps. And have drawn on the map below my best guess at the walking tour of Chur I took myself on.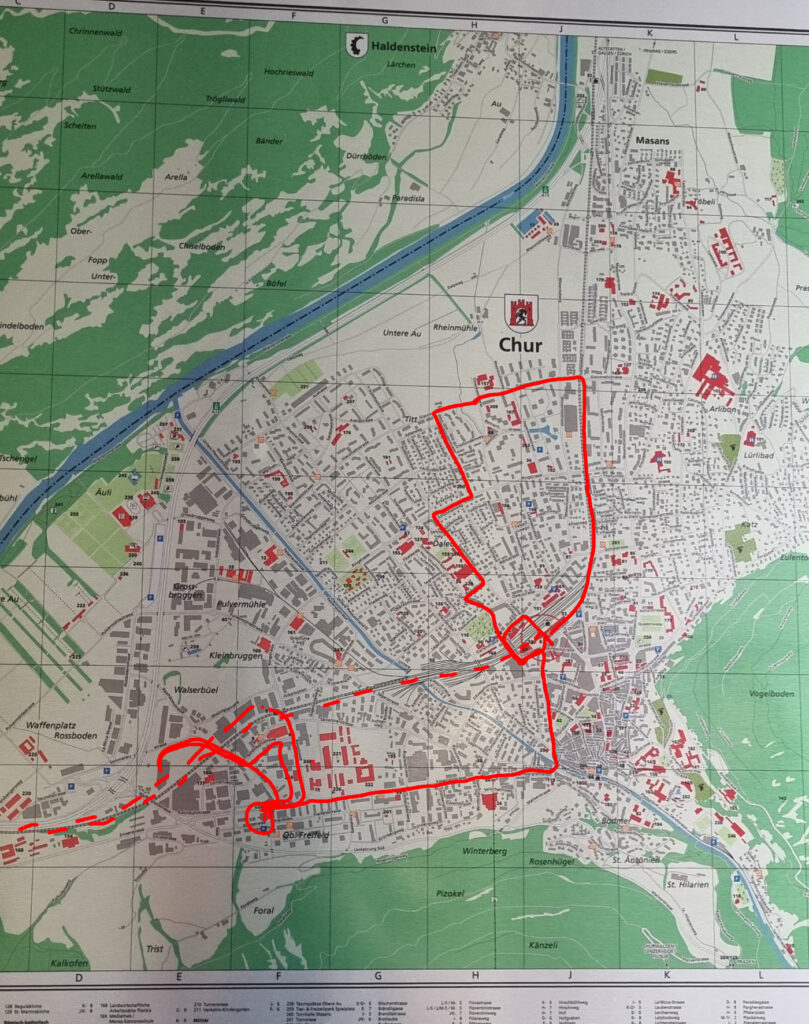 By 5pm I was heading back to Chur West, decided not to be stupid this time and jumped on the train, except I jumped on the wrong train. Sure I jumped on a train to Thusis which is the direction I wanted to be going, but it was an express train that was not stopping where I wanted to be going. Well shit that's a problem. But before I had a chance to jump off the train and head back to Chur, I encountered SBB ticket inspectors.
Queue the opening paragraph. There I was being asked for my ticket and I had no internet connection to view it with and had, at various points, been given the opportunity to download it but had not done so. The hotel when I bought the ticket, Zurich Station where there was free Wifi, Chur station where there was free Wifi, the hotel when I checked in and was given the Wifi password, the Chur information centre where there was free Wifi. The universe was throwing opportunities at me to download the damn ticket and I missed all of them. Anyway here is the sign notifying you what the deal is with ticketing. Pay particular attention to the bit in the bottom left of the yellow sticker.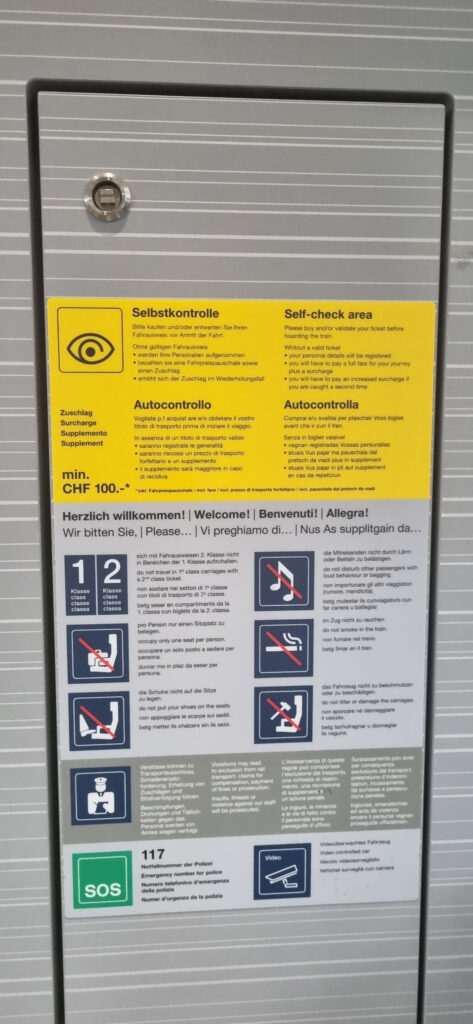 Yes, that is a 100 Swiss Francs fine at minimum. 160AUD at current exchange rates. So I'm now speaking to this ticket inspector trying to explain to him that I didn't have internet to access it, he says it's not a good enough excuse. I explain that I don't have internet because roaming is not enabled for Switzerland with my provider and that I was from Australia. He seemed to click at this, it might have come up before I don't know, but he offered to hotspot his phone so I could access the tickets through his mobile connection. I was able to do it and show the ticket. Came away from it with a stern warning to download my tickets in future and he sent me on my way apologising profusely for my idiot traveller moment.
Met a wonderful couple in the lobby by pure luck of checking if the restaurant was open (it wasn't). Shaun (edit: Sean) and Heather from England. They were looking to ask the front desk about the buses and asked me if I knew anything, I didn't as I spent all day legging it around town. Turns out we might be doing the same Bernina Express trip in a couple of days as we both ended up having to book just the St Moritz to Tirano leg due to the Chur to Tirano service being booked out extremely quickly.
Anyway that about sums up the day. I leave you with the photo of Binny the Wandering Ibis basking in the Switzerland sun outside the latest stop.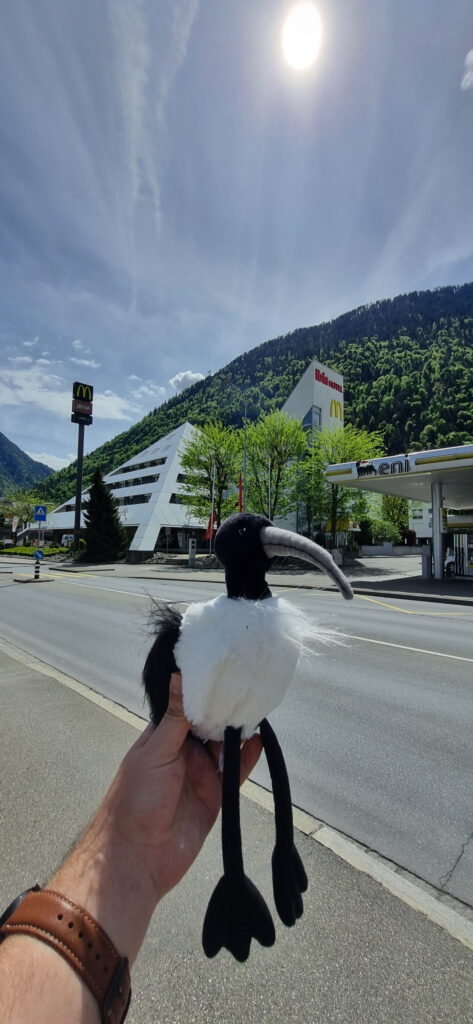 Oh and something completely off topic, I've now started a spot the fast food game. So far I'm up to 6 Burger Kings, 2 Macca's, 3 Subways and one KFC.
Actually one more for the road, I rolled out the hat for the first time so here's a photo with my face in it.